Gymnastics Bar 108 cm incl. 2 posts
Gymnastic bar 108 cm incl. 2 posts
Your children will soon manage to perform a few gymnastics exercises on this gym bar. The 90 cm long horizontal high bar in red metal promises a world of fun playing and exercising! It's a great addition to the other Wickey playground equipment, such as the climbing towers or the swing frames. The gym bar is relatively simple to set up in the garden or attached to the side of your house. Your kids will not be able to wait to have their first go on the gym bar. The gym bar lets you hang upside down and see the world from an entirely new perspective. At the same time, the kids improve their dexterity and strength while playing. For safety, simply place a safety protection mat under the gym bar.
Gym bar length: 90 cm (108 cm including post)
Red powder-coated metal
Gym bar: Ø3.2 cm
Mounting plate thickness: 2.5 mm
Incl. 2 pressure-impregnated wooden posts 88x88x1800 mm
Secure posts in concrete or with a H-anchor
Gym bar weight: 2.1 kg
Extremely weatherproof
Get the best tips on our wooden products here
Like every natural product, wood also has individual characteristics. Here you can find out more about the wood characteristics of our products.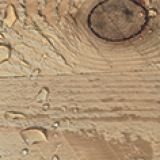 Impregnation
Water is pressed into the wood through pressure impregnation
Due to the impregnation, painting is not necessary
Tip:
The impregnation may cause the wood to be damp. It is therefore advisable to unpack it after arrival and let it dry for at least two days.
Pre-drill the holes before inserting the screws. This minimises the risk of damaging the alloy of the screws.
Salt efflorescence
Superficial white to brownish spots
Mixture of existing resin and ingredients of boiler pressure impregnation
Fades over time due to the weather
Tip: Strongly affected areas can be easily sanded!
Cracks and branches
Branches, grains and markers belong to the characteristics of the wood
Dry cracking is permitted according to DIN 4074
Tip: Cracks with ¼ of the length and ¼ of the width are statistically harmless!
Swelling and shrinking
Volume change due to moisture absorption/drying is typical of the wood
To ensure accurate assembly, not all wooden parts are pre-drilled due to wood movement
Tip: Unpack your wood directly and let it dry for at least 2 days!
Additionally you will need